6 Tips to Help You Save for a Down Payment on a Home
If you're like most people, you probably dream of buying a home some day. And if you're dreaming, you're probably also wondering how much money you'll need to save up for a mortgage down payment. Having enough money to close on a home can be one of the biggest roadblocks to getting the keys to your home sweet home.
How to save for a down payment to buy a home, you ask? No worries – we're here to help! We have to consider a number of different factors, such as your current income, current debt, your monthly responsibilities, and so on. Even your current savings play a huge role in how much you still have left to save. In this blog post, we'll cover six tips (resolutions, so to speak) for saving up for your down payment fund and we'll cover exactly how much you'll need to save to get you into the home of your dreams (and it's not tens of thousands of dollars). Keep reading to learn more!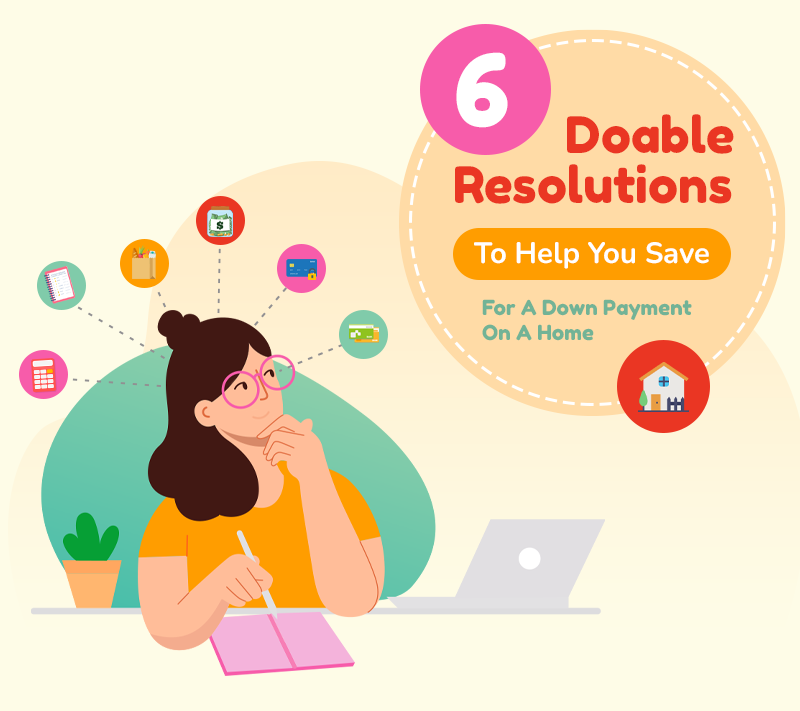 Resolution #1: Track your monthly spending.

If you're having a hard time saving for a down payment, your first step is to start by seeing where your money goes to each month and sticking to your budget (or even creating one!). Keep track of your housing expenses, daily purchases, and other expenses through a spreadsheet, your notes app, or an expense tracker app, then review what you spend and what you can save at the end of each month. Stick to that savings amount and save money at the same increment every single month! You may be surprised how much of your budget goes toward non-essential expenses that are making little deductions out of your checking account instead of going into your savings account.


Resolution #2: Determine which expenses can be reduced or eliminated completely.

Since the pandemic, many of us may have already needed to be more conscious about our monthly expenses. This second time around, now that we are working toward saving for a down payment, it's time to figure out how you can tighten up your spending by reducing and eliminating your non-essential expenses. By making these small cuts or sacrifices in your daily routine, you'll quickly be amazed at how much money you can save, which seems like a small amount every day, but can add up to hundreds, and even thousands over the course of the 12 months that make up 1 year. This can be a huge deal if you really want to make your dream home a reality (Spoiler alert: you may not need to save as much as you think to get there!)
Here are some of our favorite ideas to reduce your monthly spending and save even more toward your down payment fund, depending on what applies to you, to your family, and to your lifestyle:
Fancy Food: Minimize eating out and take out, and save them only for special occasions.
Superfluous Subscriptions: Take them each into question, then nix the monthly subscription services that aren't absolutely necessary. Is your cable bill costing you hundreds of dollars a month, and are you really needing Netflix, Hulu, and Disney Plus all at once? It might be time to totally cut it out.
Ditching Drinks: Cut down on designer coffee and other expensive beverages. Also limit your alcoholic beverages, especially if you're eating out. You wallet, and perhaps your waistline, will thank you.
Axing Accessories: Reduce your clothing budget, gadget budget, and any other expense that isn't as important as getting a home of your own, especially if you're able to borrow or hold off until your down payment goals are reached.


Resolution #3: Shop smarter (because a dollar saved is a dollar earned!).

Speaking of reducing your expenses, there are ways to slash some dollars off your grocery bill and other expenses and gain huge savings over time. Shop smarter by sticking to your grocery list (and not shopping while you're hungry!) to avoid any impulse buys. Choose to shop at grocery stores with cheap prices or at local farmer markets and spend money locally, rather than at an upscale grocer, and using recipes with in-season produce and items that are currently on-sale.
Make an effort to switch to cheaper but quality store brand labels. And are you finding yourself needing to buy something? Don't dip into your down payment funds. Instead, try Facebook Marketplace or many local Facebook groups where you can trade, sell, and even get the items you are in absolute need of - for free! Saving for a house can help you build life-long saving habits just by shopping smarter.


Resolution #4: Save extra income you may come across (don't you dare spend it!).

Any unexpected money or extra cash that isn't part of your regular monthly income are known as "windfalls" in the financial world. These windfalls could be an annual bonus at work, your tax refund, an unexpected inheritance, birthday, baby shower, or wedding cash you receive from your friends and family, or any other instances in which you get a bit of extra money. Instead of spending that dough on a new gadget, countertop appliance, or retail therapy, stash it away as part of your down payment savings.
It's not fun, it's not sexy, it's not exciting, but remember that you're working towards a more ambitious goal. That extra cash will fast-track you to your goal. Additionally, it can be crucial in case you encounter an unexpected expense and you can't afford to save your usual monthly amount you've outlined in your budget. So if you've been dying to go on vacation using your Uncle Sam refund, tell yourself that the beach can wait. Besides, a home grows your equity and your wealth the way that a temporary ocean view cannot!


Resolution #5: Go on a Spending Freeze anytime you can squeeze it in.

Challenge yourself further and decide to go on a spending freeze or a spending "diet" or "fast" or "detox" to start saving even more. Let's say for one or two weeks out of the month, you will deliberately and drastically cut your spending to only your living expenses and the absolute necessities — no entertainment, no going out, no new gadgets, no adding to cart, no gym membership when you can work out at home, etc.
At the end of that month, review what areas of your budget are now able to reduce or completely forgo to keep up with your new, lean, mean, and reduced spending habits.


Resolution #6: Create a separate savings account for your down payment savings.

Creating a completely separate only savings account for your down payment money, without linking it to your existing checking account and debit cards, will help you keep your finances in order and easily track your progress toward your savings goal. It will also make it difficult and discourage you from spending your hard-earned savings on other things other than its sole purpose, which is to achieve your dream of finally becoming a homeowner.
If it's easier, instead of saving money, you can think of your savings as a required monthly payment you have to make to your down payment savings account, but in reality, it is to yourself and to your goal of saving for a house! Making monthly payments to yourself is much better than continuing to make monthly payments to your landlord! Plus, the side gig economy keeps growing and flourishing. Can your side hustle ride share of food delivery dollars be paid directly to your down payment online savings accounts to super charge your savings goal even more? You bet it can!


When it gets hard...
Sometimes, when you save for a house, your down payment target can seem so far away, or conversely, the more money you see in your savings accounts, you can be tempted you to get off track. Your real estate dream may seem far away, and the idea of a conventional loan or high interest rates may get you off track for saving for the down payment on your home. Whatever the reason, think of the reason why you want to buy a home. Your freedom from a landlord, never needing permission to have your fur baby, or having the fear of raising rent prices when the payments on a conventional mortgage or VA loan stay fixed over the life of your loan. Put all of those reasons on the home screen of your phone, on the mirror in your bathroom, on a vision board next to your bed. You can do it! Just keep your why in front of you.


So, how much should I be saving? What exactly will my down payment goal be?
In order to buy a home, the amount that you need for closing costs and down payment should be a minimum of 8% of the your home's purchase price. The average price of a home in Greater Philadelphia is around a purchase price of $250,000. If you calculate 8% of $250,000, you'll need $20,000 toward your down payment and closing cost in your savings account for more than 60 days. But many times, we can hook you up with downpayment assistance for first time homebuyers, meaning grants, programs, and Seller's Assist that can cover up to 6% (sometimes even more!) of your down payment and closing costs, depending on your income, your credit history, and the current condition of the real estate market. Some programs may have income limits or other limits that a mortgage lender will have to impose. At a minimum, when planning to take advantage of down payment assistance, you should have at least 2-3% saved. In our example of the $250,000 home, that's between $5,000 - $7,500.
The nice thing too, when factoring how much you need to save, is understanding that mortgage lenders allow you to receive gift money from a loved one or borrow from retirement accounts as sources of down payment dollars. Did you serve in the military? Thank you for your service! VA loans will lower your down payment savings needed, lowering your savings goal, and offer better interest rates than other types of loans, like FHA loans or conventional loans. USDA loans are also available to those who desire to live in more rural areas.
Want to narrow down your down payment amounts specifically to your income, your debt-to-income, how much house you can afford, how much in payment assistance programs we can get you, and most importantly, what your monthly mortgage payment will be? A real estate agent should be in your corner - contact us!


Bottom Line
Growing your savings account for your down payment on your dream home isn't something that can be done overnight. It's a marathon - a huge, collective effort that can and will be achieved with enough determination, the right circumstances, and in any housing market. To help you set a clear goal and determine how much you really need for a down, it's best to reach out to us to help you get started by figuring out your home price, your payment target, the loan programs you qualify for, an auto loans or high interest debt we can help you lower, your payment requirement for your future home. And bonus tip - if you have 2% saved, have an annual income of $50,000, and a minimum credit score of 550, Rent-to-Buy is also a great way to save for your down payment, but you get to move into your home right away! Either way, reach out and we'll discuss your options and your next steps with you.
Need more help saving money or figuring out your next step?
Homeownership is in reach for any one. It's not a matter of if, but when. We'd love to help you get there as quickly as possible!
Schedule a Call with Us